Add-On Digest: Save any Webpage to PDF
This Web to PDF Add-on converts the web page you are viewing into a neat PDF file. This allows you to view it later via the saved content on your phone.
Instead of just taking a screenshot which turns out blurry when you enlarge the file, Web to PDF Add-on keeps the resolution.
I was browsing around for a coconut cream pie recipe and wanted to be able to print it out to follow along as I prepped the ingredients. So here's how I did it and you can see the results of the PDF at the bottom of this post.
Here's how to download the Dolphin Browser for mobile Add-on:
1. Open up Dolphin browser on your phone
2. Swipe towards the left on the screen
3. Click on the jigsaw puzzle piece
4. Click on "Get More Add-ons"
5. Scroll down and select "Web to PDF"
*Note that this Add-on is compatible with Dolphin Browser HD and is currently on Android only.
After you're done with the download, here's how to make a PDF out of the website you are currently viewing.
1. Swipe towards the left on the screen while you are on the website and tap on the PDF image (within red square)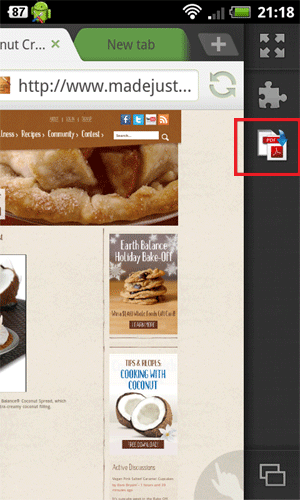 2. It will prompt you to save the document with a file name of your choice.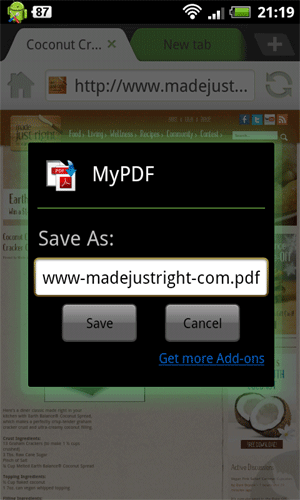 3. You are done! You can come back to the file and read it later under your downloaded content area.
I decided to export and print my PDF file and this is what the saved PDF file looks like. By the way, the pie turned out great!