Add-on Digest: Read It Later
Love to read all kinds of forums, websites, blogs and more but you sometimes just don't have enough time to read them all in one sitting?
Here's the solution: Dolphin's Read It Later Add-on will save all the URLs so you can get back to them and read it later. With a simple sign-on process, Read It Later will ensure you don't miss a beat when it comes to your favorite news, blogs and information.
Here's a pictorial guide on how it works:
L-R:
1.Swipe towards left on Dolphin Browser.
2. Download the Dolphin Read It Later Add-On from the Google Play store.
3. Create a username and password. You will be taken to Read It Later's easy two-step sign up. It's recommend that you do this so you can always retrieve your saved URLs through Read It Later's website.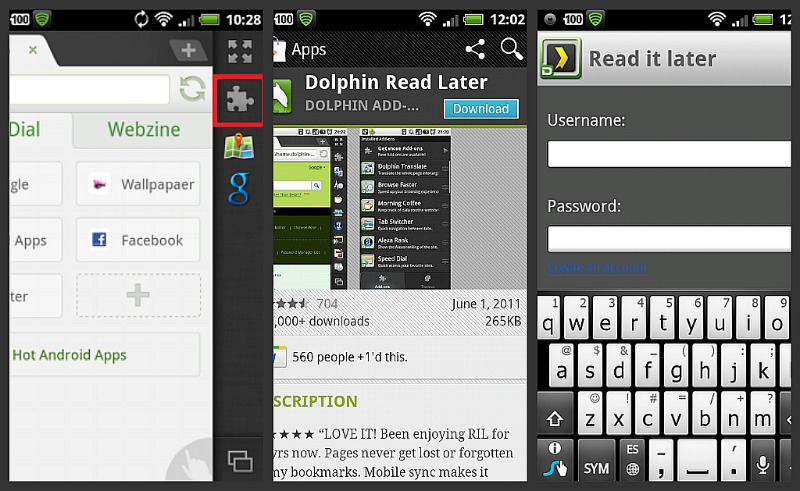 While reading something on your mobile and you would like to save it for later, here's all you need to do:
L-R:
1. While on the page being read, swipe towards left and click on "Read It Later" icon in (red square)
2. Click on "Save Current URL"
3. What your list of saved URLs will look like.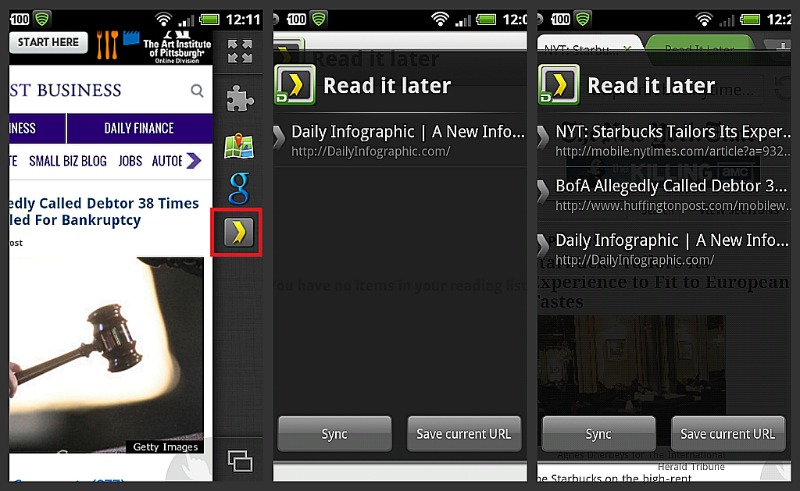 The "Sync" button ensures all your saved URLs on your mobile will be saved in Read It Later's website. Here's a shot of what my synced URLs look like — Note that it's the same links to the saved articles on my mobile phone as well.