Add-on Digest: Morning Coffee
Just like your reliable morning Cuppa Joe, Dolphin's Morning Coffee Add-on launches your favorite websites every morning.
It keeps track of the websites you open daily and opens them up upon launch in multiple tabs.
You no longer have to hunt around your phone looking for your daily dose of the latest news, sports information, social media, stock market reports and everything else you like to start your day with!
Step One, Two & Three:
Open Dolphin Browser and Swipe Towards Your Left, Choose Morning Coffee and proceed to Download
Step Four: Add The Sites You Check Into Every Morning
Step 5:  Ensure That You Have More than One Tab To Open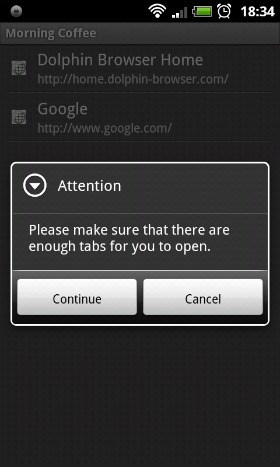 Step 6: Proceed to Enjoy All Your Regular Content!