A Girl's Best Friend for Christmas. Dolphin eBay Search.
Get all your Christmas shopping done from wherever you are. There is no better time to use this add-on than now. With the upcoming Christmas shopping frenzy, this is one way the Dolphin Browser can help you shop smart and effectively.
The eBay Search Add-on is a direct way for you to search through listings of products based on your keyword searches.
Here is a screen shot of the interface of the eBay Search Add-on. You can select a view either through opening the search results in a new tab or within the current tab.
I ran a search through the Add-on for an "ipod touch" and it showed me listings of 205,630 items for sale.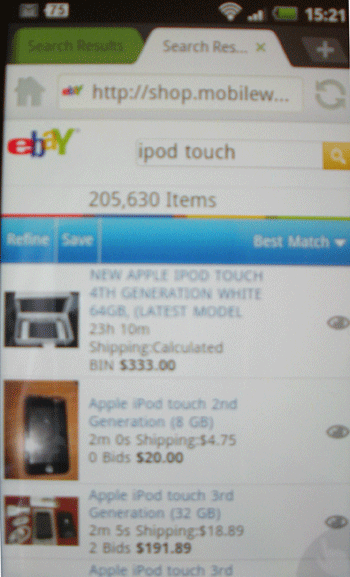 This Add-on pretty much acts like a miniature version of what you would see on a computer screen — except that this is cooler because you are shopping on the go!
Features:
Save your search query as a whole eg. "ipod touch"
Show the item as a preview with a list of all the crucial elements — Main image, time, price, quantity, shipping cost, item location, condition, payment method, item number and seller name.
Show the item with full description.
Buy the item immediately (if it is a Buy Now listing)
Add it to your "watched" items list or "unwatch" the item.
View sellers info.
View sellers other items.
View similar items.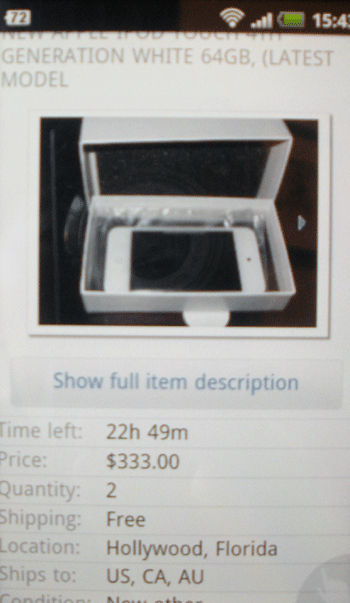 This is THE Add-on to have if you would like to do some efficient shopping and gift giving this Christmas — plus you won't have to jostle with the crowds at retail to find what you want!
Happy shopping Dolphin fans!