5 Habits of Highly Effective Android Users

Android is getting more and more powerful each day, which also means there are so many functions that you may not even know exist.
But no sweat! I want to share 5 nifty Android habits with you that you may not have come across before… enjoy!
Disclaimer: Each Android phones settings vary due to the differences in the OS version and build. I used a Galaxy S4 for screenshots in this post.
1. Disable App Notifications
I am really annoyed by app notifications that just keep coming. The worst part? These notifications actually also drain your phone's battery. If you are on Jelly Bean 4.1 and above, you can easily turn them off:
1. Whenever you see unwanted notifications in the notification bar, long press on the notification for a 'App Info' message box to appear
2. Tap on App Info > Uncheck 'Show Notifications'
3. You'll see 'Turn off notifications?' message box and tap 'OK'
2. Undo Launch by Default 
When you first purchase your Android phone, the manufacturer may have certain default settings that you don't like. You can easily undo these defaults.
   1.  Go to Settings > Application Manager
   2.  Select the app you want to remove as default
   3.  Tap on Clear defaults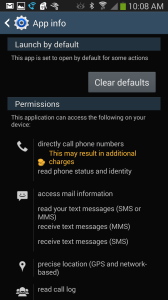 3. Better keyboard
The best part of Android is you can install new input methods and swamp them in and out. My favorites are: Flesky, Swype and SwiftKey.  These will help stop you from making silly typing mistakes. 🙂
P.S. This Fleksy video cracks me up ->



4. Set a Mobile Data Limit or Turn off Mobile Data
If you are traveling overseas, you may want to temporally disable mobile data or set a data limit, so you don't accidentally rack up data usage and costs without knowing.
1. Go to Settings > Data Usage.
2. Uncheck 'Mobile Data' or check 'Set mobile data limit'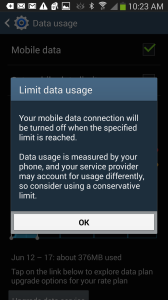 5. Faster access to Your Most Frequently Used Apps
There are quite a few launcher-like apps out there for you to quickly access your favorite or most frequently used apps.
Here are two I really like:
Cover Lock Screen 
Can get to your apps faster
Aviate
Can get to your photos faster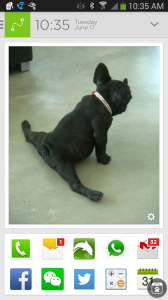 If you are new to Android, definitely test these features as they are super handy. If you are an experienced user, please do share your own secrets with us!  I would love to learn more and perhaps do another follow up post with more tips and tricks.