2012: The Tipping Point for Mobile
According to Malcolm Gladwell who wrote the book,The Tipping Point — it is "the moment of critical mass, the threshold, the boiling point"
Based on the growth of the mobile related areas below, it's not hard to believe that Gladwell's theory may no longer remain merely a theory by year end for the mobile sector. All across the mobile sector on a global scale we are seeing "hockey stick" like growth charts.
Tablet Sales: 43.6 million units sold worldwide in 2011 and 81.3 million units for 2012 (estimated projection)
Smartphone Ownership: Over 65% of people in the US own a smartphone in 2011 compared to 50% in 2010.
Mobile Activations: China is expecting over 1 billion mobile connections by May 2012.
Mobile Shopping: 2011 saw 11% of people in the US shopping from mobile phones compared to 5.5% in 2010
Apps & Downloads: Android — In 2010, 1 billion apps were download from Android. By end of 2011, 10 billion apps had been downloaded. Apple — In 2008, there were 10,000 apps in the apps store. Today there are over 500,000 apps and over 18 billion downloads.
Tablets & e-book Readers — The share of adults in the United States who own tablet computers and eReaders nearly doubled from 10% to 19% between mid-December 2011 and early January 2012.
Apple Launches iBook Author and iBooks 2 — Application intended for textbook writers and publishers to create iPad-optimized textbooks to reinvent the physical textbook learning experience.
According to IDC shipments of smartphones, tablets and other app-enabled devices will overtake PC shipments in the next 18 months, an event that may signify the end of the PC-centric era.

eMarketer estimates that more than 81.3 million tablets will be sold in 2012, up from the estimated 15.7 million units sold worldwide in

2010.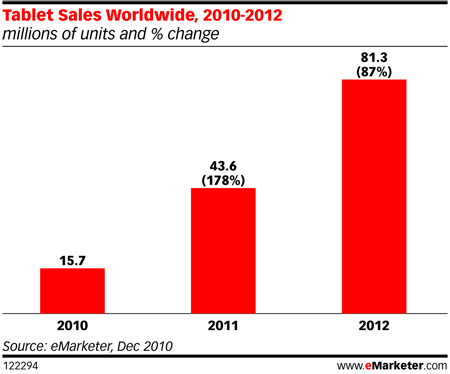 This sentiment is also echoed by Morgan Stanley in the chart below. The circled area signifies the tipping point in 2012 to which mobile will be the main driver in terms of sales and internet access over desktops.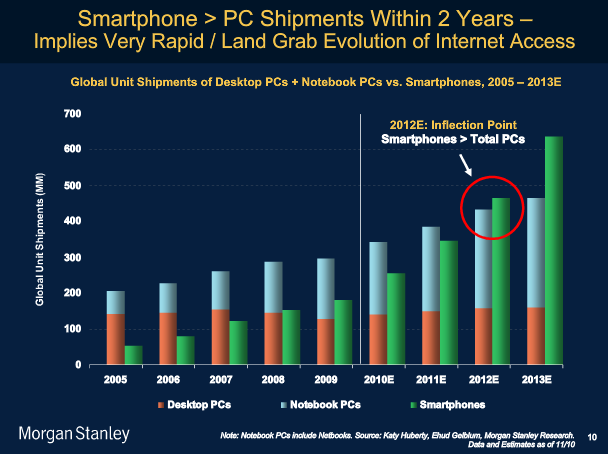 Based on the industry information and growth on global scale, 2012 is showing very clear signs of a paradigm shift within the mobile industry that will tip the scales in favor of the mobile industry — From sales of mobile devices, app downloads to content consumption through eReaders and electronic textbooks.