10% of US Mobile Subscribers Use an iPhone
Here are some interesting facts we came across recently based on Comscore's MobiLens data.
A survey of more than 30,000 mobile phone users found the following data for smartphone handsets:
Samsung is the top handset manufacturer with 25.5% market share.
LG comes in second at 20.6% market share.
Motorola sits at third with 13.6% market share.
Apple strengthened its position at #4 with 10.8% market share of mobile subscribers (up 1.3 percentage points).
Android continues to gain ground in the smartphone market reaching 46.3% market share.
In fact, Apple is the only smartphone manufacturer to have gained market share in the last two quarters of 2011 — perhaps spurred on by the introduction of the iPhone 4S in October and adding Sprint as a carrier in the market.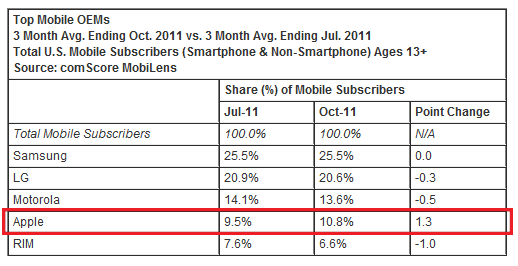 Here's the following data for smartphone platform marketshare:
Android ranked as the top smartphone platform with 46.3% market share (up 4.4 percentage points)
Apple maintained its #2 position at 28.1% of the smartphone market (growing 1.0 percentage point)
RIM ranked #3 with 17.2 % market share
Microsoft at #4 at 5.4%
Symbian at #5 at 1.6%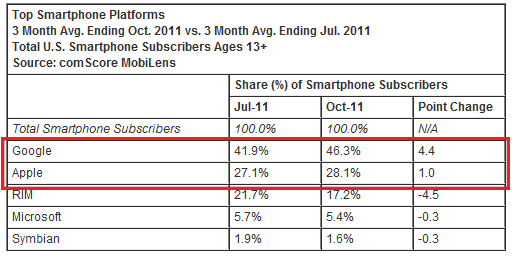 What's interesting to note is both Google and Apple are both neck to neck when it comes to both hardware and platform. However, in the apps store, Apple is still the clear winner when it comes to apps — the Apple Store has had over 18 billion downloads, while Android recently reached 10 billion downloads in the Android Marketplace.
In terms of numbers for 2011, the Apple's App Store leads the pack, having earned $4.9 billion in gross revenue for paid apps. The Android Marketplace is estimated to have earned just $330 million.
It will be interesting to see what 2012 will bring for both these mobile giants.
Sources: Comscore & Financial Edge.