Dolphin is Now 10 Million Users Strong: Disney World Trip Giveaway and iOS Release With Dolphin Connect!
One of the most amazing things about building Dolphin has been seeing a small idea turn intro something now used by millions of people. As our Dolphin community grows larger and larger, we get to build things that start to fulfill our larger vision for the future, and today we are announcing the release of Dolphin Connect on the iPhone and the iPad. We also are proud to announce that we have passed 10 million users!
If Dolphin users had their own country, it would be larger than nearly two-thirds of the worlds' countries, including Sweden, Austria, Libya or Serbia! To show our sincere thanks for all of your support, we're also excited to announce an amazing trip giveaway for one lucky Dolphin user and their even luckier friend.
All you have to do is download the latest version of Dolphin Browser in the next five days and tweet this message about Dolphin Browser's 10 million milestone to enter. The prize is the complete Disney Dolphin getaway including 5 nights at the Walt Disney Dolphin Hotel in Orlando, Florida. You can even increase your chances of winning by spreading the word, and gain an additional chance to win with each tweet.

Giveaway Details
In addition to the Two (2) FREE round-trip plane tickets to Walt Disney World, one lucky winner will also get the complete Dolphin experience:
• A 5-night stay at the world famous Walt Disney World Dolphin Hotel
• Two 5-day Disney Park Hopper Tickets
• $150 dining certificate for the Walt Disney World Swan and Dolphin Hotel
Valid for residents of the continental United States over 18 years old. Please click here to see the entire official rules.
Dolphin Connect Comes to iOS
We're also announcing Dolphin Browser v2.0 on iOS, available today for download on the App Store on iPhone and iPad.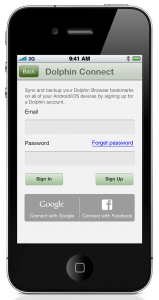 Like our recent update to the Android browser, this iOS update will feature Dolphin Connect, which allows you to sync your favorite bookmarks across all iOS and Android devices.
Have an iPad but just picked up a new Bionic? Now all of your favorite bookmarks will be accessible on both devices and your browsing experience will be the same no matter where you are or what device you're using.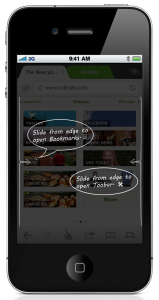 In the update you'll also find significant enhancements to Webzine, the most elegant way to explore, experience and interact with the web. We are now showcasing our community's 16 most popular Webzine channels directly on the home screen, making it easy to access on-demand content even quicker. Be sure to check it out on iPad!
We want to thank you all for your feedback and support over the past two years! Without you, we would not be able to do what we do. We welcome your continued support and feedback at support@dolphin-browser.com or in the comments below.
Good luck with the contest. See you at Disney World!