10 Must Have Apps For Christmas 2014 and NYE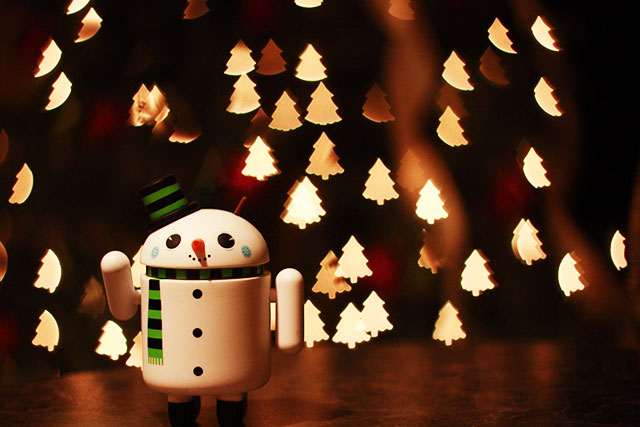 Get ready for the holidays. Christmas 2014 is almost here and New Year's Eve is just around the corner. Say goodbye to 2014 and welcome 2015 with 10 amazing apps for gaming, music, cooking, productivity, photos, and videos. We have everything in this list.
Games. Best Fiends
Small things make a big difference. Best Fiends is a visually stunning, addictive, free puzzler that takes the mobile game experience to the next level. Imagine Angry Birds and Tetris combined to form something more interesting. Best Fiends is beautiful, well designed, and addictive. The perfect game for Christmas.
The game is set in the world of Minutia and its population of cute (and of course, fiendish) inhabitants. You can collect them all and level them up to gain special powers. Best Fiends is available for iOS only. Download Best Fiends.
Games. Dots
Inspired by the art of Yayoi Kusama, Dots was created with the notion that beauty and fun are not mutually exclusive. Dots is a minimalist game that was designed to be a soothing experience. But dig deeper and there is a depth of challenging gameplay for more competitive players. Dots is available for Dots is available for free for iPhone and iPad and also free on Android.
Games. Modern Combat 5: Blackout
Gameloft's Modern Combat 5: Blackout is the ultimate FPS game for the holidays. Create a squad, add your friends and tbattle against other squads! There is also a robust single-player mode for those who prefer to experience a story.
Modern Combat 5: Blackout is available for iPhone and iPad and Android smartphones and tablet for $6.99.
Unleash the power of your iPhone 6, iPhone 6 Plus and Samsung Galaxy S5 with this great game.
Games. Sonic Dash
SEGA and Sonic the Hedgehog are back. Relive those glorious Genesis days as you dash, jump, and spin your way across 3D environments. Swipe your way over and under challenging obstacles in this fast-paced endless running game for iPad, iPad mini, iPhone and iPod touch. Sonic Dash is available for free for iOS and also Android smartphones and tablets.
Food Apps. Cookpad Recipes
Cookpad has over 150K recipes and a vibrant community of cooks. It's just like getting recipes from friends and neighbors! Get ideas for Christmas dinner, improve your cooking skills, and get inspired for delicious New Year's Eve hors d'oeurves. Cookpad Recipes is the social community for cooks and for people who love cooking and sharing ideas. Get Cookpad Recipes for free for iPhone and iPad and download Cookpad Recipes for Android.
Music Apps. Spotify
Get into the holiday spirit or work out before the festivities start. Spotify needs no introduction. The most popular music streaming app is here to set the mood right with a vast music selection. Follow your favorite artists and discover holiday playlists. The Spotify app is available for all music lovers on iOS and Android.
Productivity Apps. LastPass
Life is too busy to make sure all your passwords are secure and to remember them as well. LastPass remembers your passwords so that you can focus on the more important things. LastPass integrates with TouchID, the fingerprint scanner on iPhone 5S, iPhone 6, and iPhone 6 Plus, and adds support for extensions in mobile Safari. If you are tired of remembering passwords, this app is exactly for you. Download LastPass for iPhone and iPad or get it for Android smartphones and tablets.
Photos Apps. Carousel
Carousel is a new app from Dropbox for saving and organizing all your photos and videos. Take a picture and Carousel will upload it to Dropbox right away. Start creating a lifetime of memories with friends and loved ones. Private conversations make swapping memories a snap.
All photos and videos are safe in full resolution at Dropbox. Download Carousel for iPhone and iPad and get it for your Android smartphones and tablets.
Keyboards. SwiftKey
Let's face it – you'll probably be texting a lot this holiday season. Christmas is all about sending wishes and keeping in touch with loved ones. That's why SwiftKey keyboard for iOS and Android is what you need. SwiftKey replaces your on-screen keyboard with one that adapts to the way you type. Available as a free download for iPhone, iPad and of course Android.
Keyboards. Fleksy
Fleksy is another killer text prediction keyboard that works with even the sloppiest of writing. If you want to type with the same kind of keyboard the Guinness World Record champions do, Fleksy is the way to go. Available for iPhone and iPad and Android too.