November 28, 2011 @ 1:23 pm | Category:
Product Releases
| Tagged as:
Amazon
,
Best Buy
,
best gifts for brother
,
Beta
,
Buying Guide
,
Cyber Monday
,
Dolphin Browser
,
Gifts for the family
,
holiday buying
,
Mobile Shopping
,
Shopping
Top 10 Mobile Shopping Sites to Visit for Cyber Monday: A Pre-Holiday Gifting Guide
Over 122 million Americans are predicted to be online shopping this Cyber Monday which will double the number of shoppers using smartphones! So let Dolphin make it easy for you. Here are the top 10 mobile sites AND a holiday gifting guide for everyone on your list.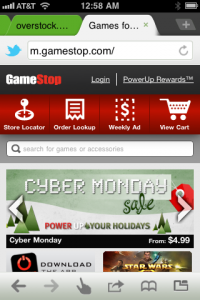 1. GameStop
For Brother, Brother in Law, Brother of Girlfriend you are trying to impress: Cyber Monday deals sports Holiday Bundles with XBOX 360 as well as Halo Reach and Fable 3.
For the Girlfriend: Sexy underthings as well as comfy PJS (with free slippers!) for whatever stage your relationship is in.
3. Best Buy
For the Boyfriend: For true geeks and moderate gamers alike, Best Buy has a bit of everything. If you get stuck, go with the gift that gives back to you and grab a couple of movies and some wine.
4. Amazon
For the Sister: Sure you used to play in the sandbox together but now you live on different coast, and Not sure what she would like, don't want to do gift certificate… again. Can't go wrong with the new Kindle Fire and book, magazine and movies!
For Mom: Whether you grew up with cookies from scratch or Kraft mac and cheese, Crate and Barrel has 15% off pillows, blenders and everything in between.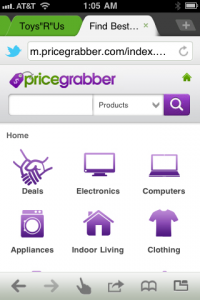 6. PriceGrabber
For your mobile phone: The easiest way to see and compare what where the deals are for what you are looking for on multiple sites.
7. Golfsmith
For Dad: We know how hard it is to shop for Dads, thank goodness they have hobbies. If he doesn't golf, go for the golf attire because honestly, who doesn't look good in argyle?
8. Overstock
For the Bestie: Up to 75% off Cyber Monday redline deals and free shipping for name brands.
9. ToysRUs
For the tykes: Almost as exciting as perusing the store and if you don't know what to get for that neice or cousin you rarely see, you can even shop by age!
10. REI
For winter: Bundle up for the winter with huge deals on coats and all things sporty for the winter season.
Shop On!