Tired of Messy Dolphin HD Settings?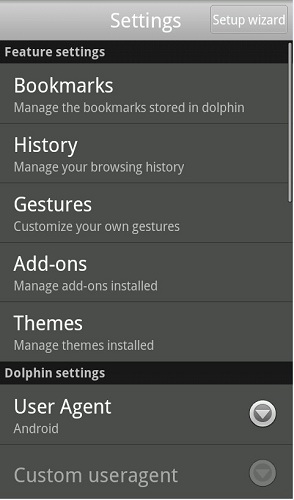 Recently online news everywhere can see Dolphin Browser Mini v1.0 is available in Android Market. Thanks for your appreciation. And please don't forget that another important product Dolphin Browser HD will get an update also. In this minor update, we mainly adjust the settings classification of Dolphin Browser HD. Over the past updates, we had added some options and changed the settings for only once. Here in order to make it easy to find options, we change it again. Now you can try it and keep the excellent feedback coming. We can't wait to hear what you think about this new update of HD version.
In addition, we add options for gesture. one for EXIT, one for DESKTOP TOGGLES. Now you can use a simple pattern to exit dolphin and quick switch the browsing mode ( user agent ). At the same time, what we have been doing is bug fixing and performance optimizing and we will never stop. Download Dolphin Browser HD V4.3 beta now and leave your comments here let us know how you feel.