[Mini V1.3 Beta] Gesture Updated? Settings UI Updated? Better or Worse?
Time to get ready for your phone, and test the big UI change in Dolphin Browser Mini V1.3 beta. Though I call it a big change, if you don't access settings page or don't use our gesture, you won't find out the upgrade. We have no idea about this upgrade is better or not, so please help us and send your feedback to us actively.
In this major update, we think more about how to improve the user experience and make it better to use. We bring in the new idea of  "Gesture Store", in which there are 50 gesture pattens. You can choose one from it for any actions. Then, the most immediate feeling is the UI embellishment in the gesture settings page and add new gesture page.
Apart from gesture upgrade, we also redesign the interface of Mini's settings in order to make the classification more clear and refresh.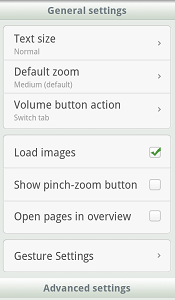 What are you waiting for? Download this new beta version here and continue to send us your thoughts.